La Germania 9C10GRB1X4AWW Freestanding Cooker 90 x 60 cm 5 Gas Burners Stainless Steel Color
$ 362.73
LE

:

5,699.00EGP

EUR

:

€ 305.83
La Germania 9C10GRB1X4AWW freestanding cooker, is standard, the classic cooker range is great, the size of the cooker is 90 x 60 cm and it is an impressive space, number of burners: 5 gas burners, with central double burner + 4 kW
Report Abuse
La Germania 9C10GRB1X4AWW Freestanding Cooker 90 x 60 cm 5 Gas Burners Stainless Steel Color
La Germania 9C10GRB1X4AWW freestanding cooker, is standard, the classic cooker range is great, the size of the cooker is 90 x 60 cm and it is an impressive space, number of burners: 5 gas burners, with central double burner + 4 kW
Mashael Italy comes in the color of the stainless steel cooker, the shape of the cooker has a glass work surface with a wonderful cover.
Cooker features: –
Control panel material: stainless steel
Burner Stand Material: Large Enamel Holder
Complete work surface safety (100% Italy)
Self-ignition torches
Environmentally friendly heat insulation
2 left and right gas inlet
Oven features: –
Large and spacious oven
Thermostat to control the oven temperature
Mechanical timer with alarm
With indoor lighting
Easy Controlled Movable Rack (5 Positions)
Full oven safety (100% Italian)
Self-ignition oven
A real closed door grill
Spitting turn (grill motor)
Cooker Dimensions (cm): –
Width x Height x Depth: 90 x 75 x 60
Weight :-
Net Weight: 67.82 kg
Gross Weight: 73.05 kg
Country of origin: Egypt
Cooker Warranty: Free 5 Years Full Warranty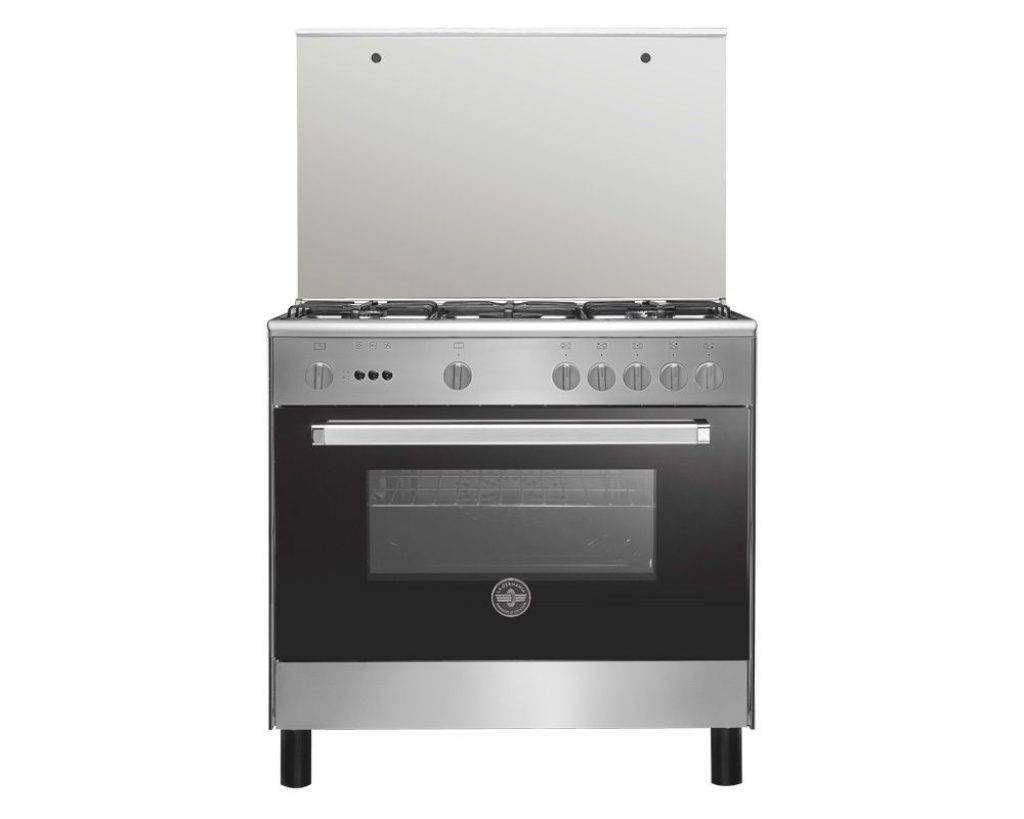 Model No 9C103RC1X41WW, Brand LA GERMANIA, Main-Сategory Freestanding Cookers, Product Situation In Market Continuous Production, Main Information Type 5 Burners Cooker, Colors Stainless, Size 90 x 60 cm Burners Number 5 Gas Burners, Cooker oven capacity, Collection / Series Classica, Dimensions ( W x H x D ) mm 900 x 750 x 600, Net Weight – KG 67.82 Kg, Gross Weight – KG 73.05 Kg, Country Of Origin Egypt, Warranty. 5 Years Full Free Warranty.

About Al-Arabi Company: Who We Are Elaraby Group is an Egyptian family, shareholding company established in 1964 and works in both manufacturing, and marketing of engineering products to contribute to the development, of the Egyptian economy. The group devotes its efforts to provide high quality products that include high quality products. Technology to meet consumers' needs and expectations.
Specification:
La Germania 9C10GRB1X4AWW Freestanding Cooker 90 x 60 cm 5 Gas Burners Stainless Steel Color
| | |
| --- | --- |
| Model No. | 9C103RC1X41WW |
| Brand | LA GERMANIA |
| Main-Сategory | Freestanding Cookers |
| Product Situation In Market | Continuous Production |
| Type | 5 Burners Cooker |
| Colors | Stainless |
| Size | 90 x 60 cm |
| Burners Number | 5 Gas Burners |
| Collection / Series | Classica |
| Dimensions ( W x H x D ) mm | 900 x 750 x 600 |
| Net Weight - KG | 67.82 Kg |
| Gross Weight - KG | 73.05 Kg |
| Country Of Origin | Egypt |
| Warranty | 5 Years Full Free Warranty |

La Germania 9C10GRB1X4AWW Freestanding Cooker 90 x 60 cm 5 Gas Burners Stainless Steel Color
$ 362.73
LE

:

5,699.00EGP

EUR

:

€ 305.83