Microsoft Windows 10 Pro CD KEY
Microsoft Windows 10 Professional .. Get an operating system that starts and resumes quickly With Microsoft Windows 10 Professional, is your guarantee of easy access, so it has more built-in.
Microsoft Windows 10 Pro
Key
Microsoft Windows 10 Professional
Get an operating system that starts and runs faster with Microsoft Windows 10 Professional. Easy access is guaranteed. It has additional built-in security features to keep you safe. It's designed to work with the software and hardware you already have. This comes from a long line of popular features released by Microsoft. Windows is perfect for gamers, desktops and everything in between.
With great built-in apps like Maps, Photos, Music, Mail, Calendar, Movies and TV. Windows 10 Pro helps you store what you need, find it when you need it, and clean things up to save space. And your files will never be lost from Microsoft OneDrive automatic backup. With Windows 10 Pro, you're never far from what you need.
Windows  designed
This version of Windows is designed to improve business performance. It provides support for encryption, remote login and creation of virtual machines. Windows 10 Professional is the perfect choice for all your business needs. It also includes Cortana, your dedicated digital assistant.
Windows 10 Pro helps you work and play. Transfer your favorite XBOX games from console to PC. Your game friends and other contacts will also move between platforms. Windows 10 Pro is ideal for heavy work and heavy gaming. Whatever you use your PC for, Windows 10 enhances your experience.
Features of Microsoft Windows 10 Professional Edition
The fastest way to communicate ideas is to quickly access the Windows Ink workspace to use Sticky Notes, ScriptPad, and Screen Sketch. Naturally, you can create, capture and improve ideas at the speed of thought in the office.
Hello Password, Windows Hello is a passwordless login that provides the fastest and most secure way to unlock Windows devices.
Moving past the browser, Microsoft Edge is a browser designed for Windows 10.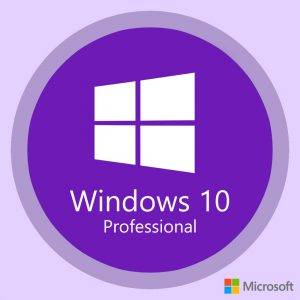 Explore a pass. Enjoy a personalized and responsive web interface that lets you complete tasks online.
Your true digital assistant that will learn over time and Cortana will become more useful as you progress. Count on Cortana to help you find things, complete tasks, set reminders, and be more productive across your devices.
The best Windows for gaming Play the best new XBOX games on Windows 10 in native 4K resolution. Stay connected to your gaming community with the XBOX app. And play anywhere with home streaming and XBOX Play Anywhere.
The best apps for work Download your favorite apps quickly from the Windows Store, a one-stop shop for PCs, tablets, phones and Xbox One. Easily find and discover popular free and paid apps, desktop software, PC games, XBOX, movies, TV shows and the latest music.
The most complete security The most secure Windows system Windows 10 offers comprehensive protection including antivirus, firewall, Windows Defender and anti-phishing technologies, all at no additional cost.
Specification:
Microsoft Windows 10 Pro CD KEY

Microsoft Windows 10 Pro CD KEY